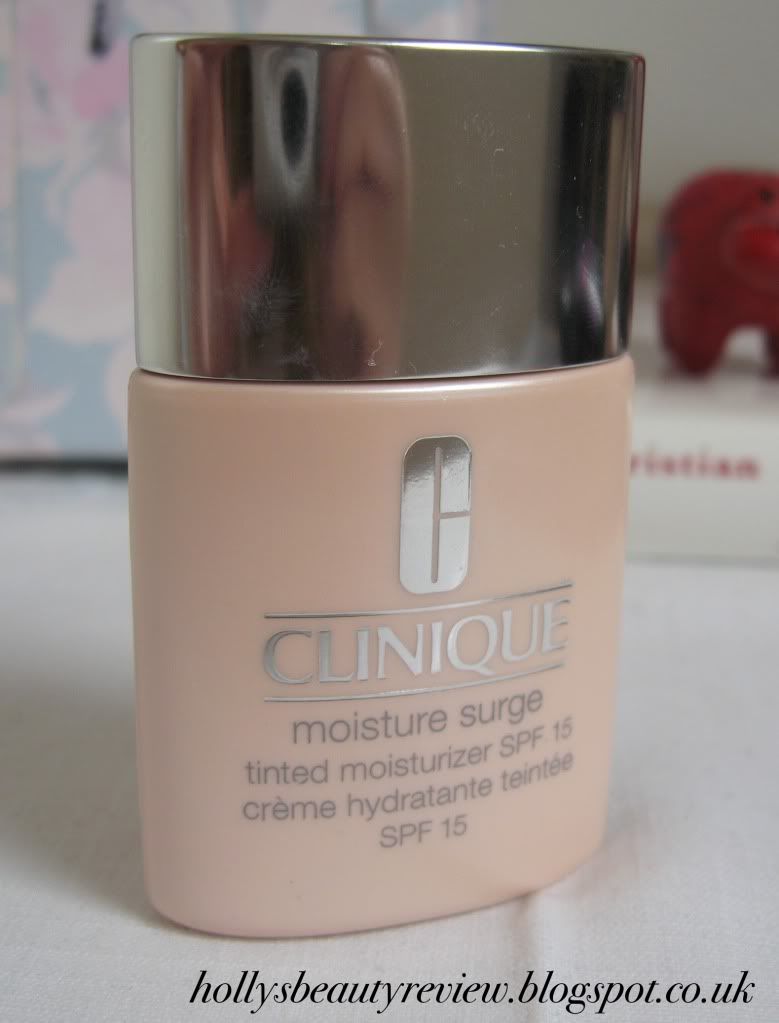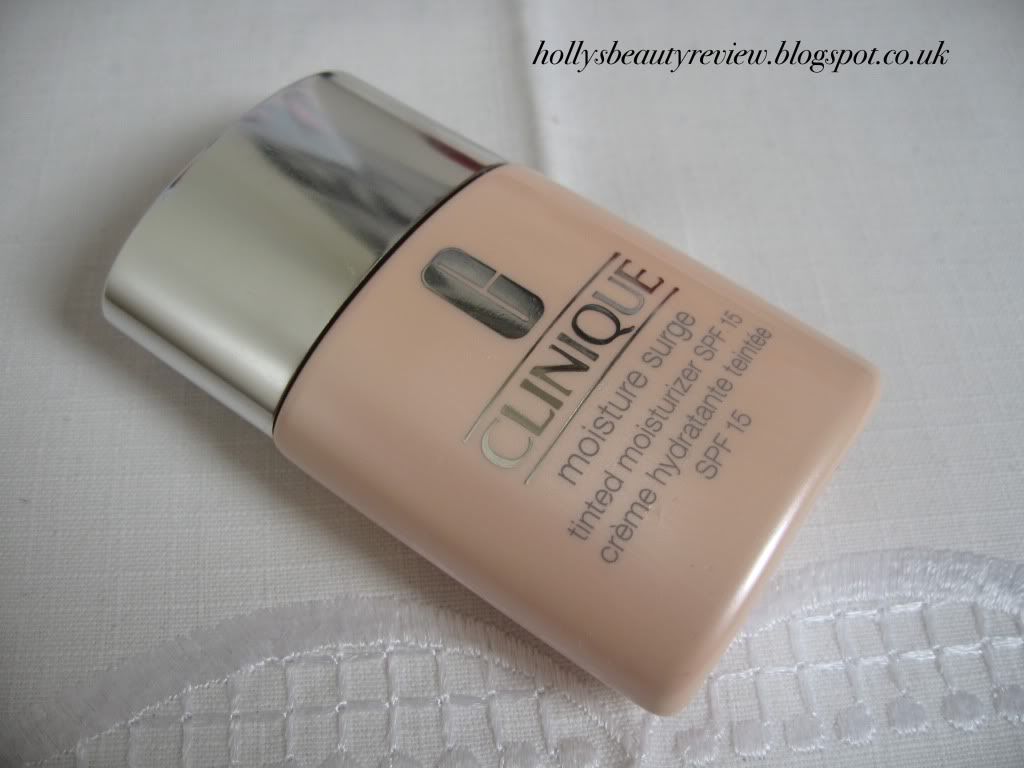 I have finally finished my exams, I say finally, they only lasted about 4 days but I feel like the whole process has been dragging on forever! However, this now means I'll be able to focus on my blog a bit more (yay!) so if anyone has any suggestions of things you would like to see me review then pop them in the comments below.
Today I'm going to be talking about Clinique Moisture Surge Tinted Moisturiser. This product claims to offer a skin perfecting, natural finish whilst hydrating your skin. It contains an SPF 15 which is ideal for early spring onwards, but you may want to wear something stronger underneath when the weather heats up a bit.
I first discovered this product when I returned a Super Balance foundation that I had been incorrectly colour matched for. The lady was difficult and quite frankly I wanted to get away without causing a scene so after trying to get me to buy another foundation, she ended up giving me a tester of the tinted moisturiser to try. I thought I might as well give it a shot as I do like a light coverage and this sounded like a good product. She matched me to Shade 01 (which was wrong... won't be going back to her again!) but despite the slightly light colour I really liked the consistency so I decided to buy the full size in Shade 02.
This product is not heavily fragranced, it smells a bit like other Clinique products if you're familiar with those, so if you have sensitive skin like I do this shouldn't cause you any problems.
From a moisturising point of view, I don't think it did very much for my skin. I have dry - normal skin and I honestly would say it offered no form of extra hydration to my skin compared to normal liquid foundations. It did feel good on my skin but I feel it's important to point out it wasn't providing the extra moisturising qualities that I expected. If you have oily skin I think this would product would be fine as it is also oil free. In fact, if you have tried the Moisture Surge cream, it's the same idea (funnily enough, they share the same name!) but I don't find that cream moisturising either so maybe it's just my skin.
It provides a demi-matte finish and evens out the skin tone. I would also say it offers light - medium coverage, from this respect I was actually very impressed; in the past, my experience with tinted moisturiser has been that they are just an orange/flesh toned cream that mearly offers colour rather than coverage. The finish looks very natural, particularly if buffed in to the skin with a brush. It also looks lovely applied with fingers. It does not cling to dry patches and I have not noticed it oxidising. I find I need to use quite a bit of product though, 2 - 3 pea sized amounts, as the formulation is quite thick. I find it lasts well on my skin and I wouldn't tend to use any powder with it. Touch ups required after 6 - 8 hours of wear which is not bad in my books.
The packaging is sleek and handbag friendly, at £21 for 30ml I think it's quite a good deal. If you forget that this product claims to be moisturising, it's actually a really good light coverage 'foundation' that will even out skin tone with a little SPF on the side.
I am now on the hunt to try out a few more tinted moisturisers as I really like them for day-to-day wear. I am unbelievably tempted by the Chantecaille one but at £55 I may need to wait for Christmas to come round again! If anyone has any suggestions please let me know! Also if you've tried the Clinique one, let me know about your experience.